"Yet you participate in society": in defence of "Mr Gotcha"
3 December 2021
---
SUGGESTED
Healthcare
Economic Theory
When this blog was launched over a decade ago, most of my articles were rebuttals of the latest nonsense I had read in the
Guardian
or the
Independent
. Those publications are, unfortunately, still around, and they are still just as wrong about most things and just as annoying as they were then, but they have since lost some relative importance. Nowadays, terrible ideas (and occasionally, good ones too) are just as likely to spread via social media, not least in the form of memes.
One of the most popular memes – and one which every reader who has some exposure to social media will have come across – is "Mr Gotcha":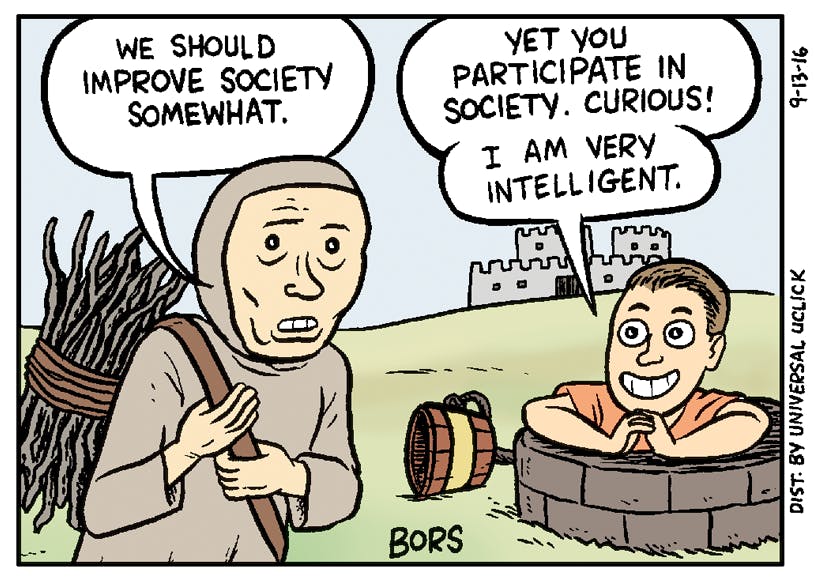 It is an unusual meme. Every other meme I can think of is readily customisable, and applicable to a wide range of scenarios – that is the whole point of them. Memes are like Rorschach Tests. Different people see different things in the same meme template. We can turn them into whatever reflects our obsessions, perceptions, and judgements. That is why they spread so easily, and why they are so easily transferable from country to country.
The Mr Gotcha meme is usually just copied and pasted, rather than customised. That is because it is only applicable to a fairly narrow range of circumstances (which makes it all the more remarkable that it pops up so often). It comes up when somebody criticises a system, organisation, or cultural practice that they are themselves somehow involved in, and when an opponent responds by holding that involvement against them, rather than addressing the substance of the critique.
In practice, the use of the Mr Gotcha meme is even narrower than that. I usually only see it when somebody posts some anti-capitalist cliché, and an opponent posts a reply along the lines of "Bet you posted that on an iPhone", or "Posted on your new Apple MacBook, eh?". The point of the "Mr Gotcha" meme is to make that kind of response look stupid, and ridiculous. (Or "cringe", in modern parlance. How do you do, fellow kids?)
The idea is not completely new. There is an old West German version of the Mr Gotcha meme, which long predates memes, social media, or even the internet: "
Geh doch rüber!
" (Roughly "Why don't you just move over there?", where "over there" refers to the GDR.)
Geh doch rüber
was a common conservative response to left-wing criticism of West German conditions: if you don't like it here, why don't you just move over to the other side? At some point, left-wingers started to use that phrase ironically, to make the conservative critique sound silly, and embarrassing.
The "Mr Gotcha" meme has its uses. You can participate in X, and still raise a perfectly valid critique of X. Maybe you do not know how to fully extricate yourself from X, maybe unilateral withdrawal from X is not realistically feasible or sensible, or maybe you really just want to "improve X somewhat". Or maybe you really are being inconsistent by participating in X, but even then, that does not automatically invalidate your critique of it.
More to the point, it is not per se hypocritical for a socialist to enjoy the fruits of capitalism. We try to make the best of the system we live in, whether we approve of that system or not. Most Soviet dissidents drove in state-produced cars, lived in state-provided housing, worked for the state, and got their groceries from a state-owned retailer. Was that hypocritical of them? ("Yet you participate in socialism. Curious! I am very intelligent.") Of course not. What else should they have done?
Socialists do not accept the idea that iPhones, notebooks and other modern amenities are products of "capitalism". They would argue that those products are made by workers, not "capitalism", and that those workers would continue to make them if the company owners were expropriated. In Marxist mythology, company owners do not contribute anything useful to the production process. They just sit there, and collect the profits.
They assume, in other words, that access to modern technology is independent of the economic system. That, however, is a testable hypothesis. And it is empirically simply not true. For example, in 1989, only about
one in ten
East Germans had a personal computer, whereas in West Germany, the figure was already close to four in ten. Only one in six East German households had a telephone, while in West Germany, virtually every household had one. If the GDR still existed today, they probably would have a state-produced People's iPhone and a People's Notebook by now, but the share of the population with access to them would be a fraction of the West German equivalent.
Until not too long ago, Chile and Venezuela were fairly similar in terms of
internet usage rates
. But by 2017, a gap of almost twenty percentage points had opened: over four out of five Chileans used the internet, while in Venezuela, less than two thirds of the population did. That gap has almost certainly widened further since then. The two countries also used to be similar in terms of mobile phone usage, but today, less than half of the Venezuelan population have a mobile phone subscription, while Chile has more mobile phone subscriptions than it has people. And let's not even get started on comparing North Korea to South Korea, or Cuba to Puerto Rico.
Being a socialist does not mean that you are not allowed to use an iPhone or a notebook, but it is just empirically true that if your fashionable opinions were actual policy, you would be significantly less likely to have an iPhone or a notebook (alongside many other things) in the first place. And it is legitimate to point that out. Technological progress is
not
independent of the economic system. It varies widely between economic systems, and capitalism is streets ahead of the competition. So of course there is a certain absurdity in trendy Western anti-capitalists using the fruits of capitalism to slag off that very system. Mr Gotcha has a point.
---
---
---
---